08 November 2018
You may not be at our London dinner but you can still help the Society by bidding for our online auction lots!
Some fabulous items are up for grabs including some superb stalking, salmon fishing, The Mousetrap theatre box, Magnums of Roederer champagne, delicious wine, charming holiday cottage, optics, sporting goods, amazing art and a stunning collector's piece of a specially commissioned Emberleaf Garron knife with handle fashioned from 40,000 + year old mammoth tusk and blade of finest Damascus steel.
The lots will be online for 2 weeks closing on 21st November at the dinner itself. SO please do get bidding!
Bid here - www.bdsfundraisingdinner18.co.uk
05 November 2018
Changes to the clocks mean deer movement will coincide with peak commuting hours, increasing the likelihood of collisions.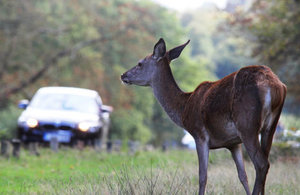 Highways England, Country Land and Business Association (CLA) and The Deer Initiative Partnership have joined forces to warn motorists about the heightened risk of deer-vehicle collisions this autumn. They urge drivers to be more aware during this time of year and have issued some advice for motorists.
Read more: Five steps motorists should take to avoid deer collisions this autumn
01 November 2018
Christmas Card - Fantastic value from this year's top quality Christmas Card featuring award-winning artist Justin Prigmore's powerful and inspirational oil painting of red stags in the winter snow. Packs of 10 with envelopes at £5.95 including P&P
2019 Calendar - Stunning seasonal images of deer throughout the UK taken by some of our regular photographers feature in the A3 Wall Calendar. Practical, large month to view format, with space for important daily appointments. Seasonal diary dates included. Spiral bound. 420 x 297mm. Perfect for presents, our exclusive BDS calendars are  £11.95 each including p&p.