While not everyone can be at our London fundraising dinner the good news is you don't have to miss out on the great auction lots available!
Our Givergy auction site supported by Knight Frank is still open to take your bids.

Some fabulous items are up for grabs including superb stalking and fishing, The Mousetrap theatre box, fine dining, luxury and sporting goods, amazing art and some of our most popular and recent book releases.
Monday, 18 November 2019 from 09:30 to 15:00
Westpoint Exeter, Westpoint, Clyst Saint Mary EX5 1DJ
Devon and Cornwall Police are hosting an event to give Rural Communities the opportunity to have their say on policing in rural areas and influence future policing.

There will be a question and answer session with the Chief Constable Shaun Sawyer, Police and Crime Commissioner Alison Hernandez plus representatives from NFU and CLA. The Police and Partners will also give inputs on the current strategy and activity that is taking place to re-engage with rural communities.
The Partnership for Action against Wildlife Crime (PAW) has a specific Priority Group to engage in Poaching & Coursing. Scotland's group has been considering the returns / annual reports of Local Authorities to SNH of Venison Dealers Licences issued and it is ongoing.
A GIS map of the known addresses reveals that certain regions appear to have no registered Venison Dealers Licences operating. This may be the case but it may also suggest that there are persons or firms or estates processing, (removing the skin and butchering carcasses), who are non-compliant.
The National Wildlife Crime Unit and SNH, with support from Wildlife Crime Officers will soon be undertaking investigations into premises to investigate for non-compliance.
Public Health England (PHE) has reported that Tick-borne encephalitis virus (TBEV), which is endemic in many European countries, has been found for the first time in a very small number of ticks in Thetford Forest and more recently within The New Forest.
These are early research findings from work carried out in conjunction with the Emerging and Zoonotic Infections National Institute for Health Research (NIHR) Health Protection Research Unit at the University of Liverpool and indicate the need for more work, however, the risk to the general public is currently assessed to be very low.
The British Deer Society (BDS)'s Honorary Vet Peter Green commented:
"BDS is aware of the recent discovery of the TBE virus in ticks in the New Forest. The Society has been actively involved in the research that has led to this finding. The Society endorses the call for public tick-awareness, especially when spending time in the countryside where cattle, sheep, rodents, deer, birds and many warm-blooded creatures carry ticks and deposit them in grass and undergrowth".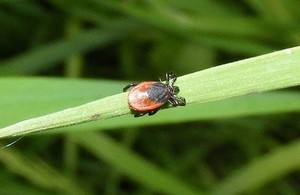 View News Archive